Is it more palatable if you call it a different name?
Sometimes Banks Seem Like a Healthier Choice but in reality, stunts growth
Sweet potatoes have made a huge splash in cuisine over the last few decades. What started out as a complementary dish during Thanksgiving has evolved into a wide variety of both sweet and savory dishes. Throughout its rise to fame at home and in rustic, craft-brewery style restaurants, the confused yam saw its greatest gains by pushing down its similar counterpart, the white potato. The russets were deemed unhealthy and an enemy of the conscientious dieter which lead to mass reclassification of everything from fries to the coveted mashed.
For everything that was touted as "healthy" for the sweet potato, the classic potato received none of the same accolades for having near identical benefits. Sure – the sweet potato has high amounts of Vitamin A but the white potato makes up for that in potassium but, calories and other nutritional benefits are exactly the same.
Banks are basically the sweet potato of the lending world. Back in the early 90's, they were your local and regional banks that played by their own rules and basked in the non-competitive market of regulated interstate finance. They were slow to decisions and tough on their covenants.
Factors and alternative lenders shined during this moment. They were the white potato – used in just about everything. Interest rates were already high, so the cost of funds was relevant. Manufacturing was still strong in the US and new sectors in technology and chip design were taking root. Growth was exploding with the new industries and the conservative banks were not lending.
But everything changed in 1995 with the Riegle-Neal Act. Well capitalized banks could acquire banks nationwide; and, once they purchased a bank in the state, they could start lending to those local businesses.
They were quick to make the new deals once unavailable to local growing businesses; and, due to their size and capitalization, the larger banks could outcompete any of the smaller and reliable alternative lenders. Clever marketing positioned banks to be on the borrower's side, and eventually the positioning forced alternative lenders to become the "unhealthy" options only based on cost of funds.
However, during this time of national bank expansion, so too was banking regulation. As banks secured sweetheart deals promising the world to clients, they immediately switched to harder restrictions and tighter covenants. The price was right but the inflexibility of how to use funds limited growth. Many borrowers found themselves in worse positions than they started as they did not have the liquidity to keep growing.
Alternative lenders adapted and begun utilizing banking techniques such as Asset-based lending to offer similar products but with higher flexibility. This worked especially well in the rapidly growing technology arena and many small business owners found a true pathway to enterprise level without the need of a bank.
The misconception with classic and sweet potatoes is that either choice is all or nothing – the best or the worst.
The same could be said for finance. When deciding a choice in lender should be based on more than just price alone. Alternative lenders offer covenants to negotiate, penalties that can be waived, and flexibility that can be granted based on a business's individual performance where banks must be more limited due to their regulation. The banks restrictions can have dire consequences with the limited options when things do not go according to plan. Banks ca not offer these tailored solutions because they are limited by the same regulations that allow for such a low price on funds.
Classic Potatoes and sweet potatoes both have their pro's and con's, but they're both very similar in many ways. Don't buy into the idea that one is healthier simply because only one aspect is better. It could turn out that was needed was what the other had.
If you know a business in a banking situation where the terms appeared like it would be a healthier option, but instead hurt their growth, have them give Camel a call at 949-722-7717 and see how we can tailor a line of credit for the right option!
---
Celebrating Sweet Potato Awareness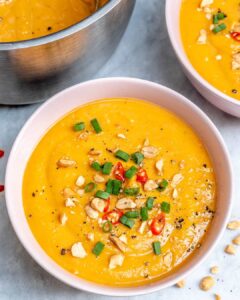 From Helena's Garden: Sadly I can never get the potatoes or sweet potatoes to grow very well, but the carrots always do very well. So well this year I donated 10 Ibs to a local Horse Rescue. I also have a Kaffir Lime Tree growing in my back yard. This was a tough one to find. If you can find a leaf certainly add it to the recipe. And as always I have cilantro and Basil always growing to add to all my dishes.
THAI SWEET POTATO AND CARROT SOUP
INGREDIENTS:
2 tablespoons unsalted butter

4 cloves garlic, crushed

1 sweet onion, chopped

1 (3/4-inch) piece ginger, peeled and sliced

2 tablespoons red curry paste, or more, to taste

1 pound chopped carrots

2 sweet potatoes, peeled and chopped

3 cups chicken stock

1 (13.5-ounce) can lite coconut milk

Kosher salt and freshly ground black pepper

1/3 cup fresh cilantro leaves

1/4 cup packed fresh basil leaves

2 tablespoons freshly squeezed lime juice

2 tablespoons crushed peanuts or hot chilis
DIRECTIONS:
Melt butter in a large stockpot or Dutch oven over medium heat. Add garlic and onion, and cook, stirring occasionally, until translucent, about 3-4 minutes. Stir in ginger and curry paste until fragrant, about 1 minute.

Stir in carrots, sweet potatoes, stock and coconut milk; season with salt and pepper, to taste. Add Kaffir Lime Leaf Optional.

Bring to a boil; cover, reduce heat and simmer until carrots and sweet potatoes are tender, about 20-25 minutes. Sometimes I will cook in Slow cooker for a few hours to develop the flavors.

Remove from heat. Stir in cilantro, basil and lime juice; season with salt and pepper, to taste. Puree with an immersion blender until desired consistency is reached.

Serve immediately, garnished with peanuts or hot chilis, if desired.