If you have already seen our Zucchini post, you'll know that we take designations seriously! For our Cooking the Books October 2020 edition, we'll be looking at another "botanical fruit" but used as "cooking vegetable".
When we think of tomatoes as a fruit or prepared as something sweet – not many star recipes jump to mind. Sure it can make a nice complement to a balsamic reduction or tossed with other acidic fruit like kiwis and balanced with lime but it never becomes anything other than another "salad".
That's where separating it from its fruit designation, allows for a plethora of different options. From savory sauces to garlic infused spreads, once the tomato leaves its class and explores the other options in food – the possibilities are endless!
ABL followed suit to Factoring in a similar way. Aside from arguing advance rate and interest costs, not much was left elaborate on in the factoring world. Being stuck in ONLY purchasing receivables limited to the relationship to a strict transactional one.
ABL was the attempt to break the classification and extend the lending to more of relationship-driven and not on a spot basis. Further, including other assets such as inventory and equipment allows for even more liquidity for a cash-strapped company in a rapid growth phase.
The relationship also allows for flexibility not available in transactional account. During tough times like COVID, having an established relationship with a line-of-credit lender can be a secret weapon. We can track the company's past performance and make accommodations where needed. In a transactional relationship, what you have is what you get.
So, while yes, ABL heavily focuses on AR for a collateral base (just like factoring), the combination of a long-standing relationship and ability to include additional collateral on a borrowing base make the argument for a different classification. While ABL resembles the fruit factor – we're best used as a culinary vegetable!
Give us a call and see how we can create a relationship that works! Whether decline, workout, or too high of expansion risk, we can work with banks and companies to ensure they get the best taste out of their line!
---
Celebrating National Tomato Month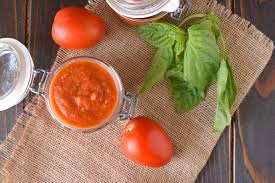 From Helena's Garden: This summer I planted a Roma Tomato plant. The plant went nuts but the tomato's it produce were just so so tasting so I have decided to turn them into a sauce.
CLASSIC ROMA TOMATO SAUCE
INGREDIENTS
1 LB of Fresh Roma tomatoes

1 tsp sugar

1/2 a lemon squeezed

1/2 tsp Sea Salt
INSTRUCTIONS
Boil a large 6-quart pot of water to boil.

Fill a large bowl with ice and water and set this next to the stove.

Prepare the tomatoes for blanching. Core out the stems from the tomatoes and slice a shallow "X" in the bottom of each tomato.

Blanch the tomatoes to peel them. Working in batches, drop several tomatoes into the boiling water. Cook until you see the skin starting to wrinkle and split, 45 to 60 seconds. Using a slotted spoon, lift the tomatoes out and place them in the ice water. Continue with the rest of the tomatoes, transferring the cooled tomatoes from the ice water to another large bowl as they cool.

Peel the tomatoes. When finished blanching, use your hands or a paring knife to strip the skins from the tomatoes. Discard the water used to boil the tomatoes.

Coarsely chop the tomatoes. Place the tomatoes in the food processor or ninja foodi. Pulse a few times for chunkier sauce, or process until smooth for a puréed sauce.

Transfer into the Dutch oven or stockpot.

Simmer the tomatoes. Add a touch of salt and sugar. Bring the tomato sauce to a simmer over medium heat. Continue simmering, stirring occasionally, until the sauce reaches the taste and consistency you like, 30 to 90 minutes.

Squeeze 1/2 lemon into pot and stir

Let cool and transfer into jar or other container and save to make some delicious pasta sauce