Finding a Little Bit of Sweetness in these Sour Times
Record unemployment, rising infection rates on a global pandemic, and civil unrest felt throughout the country, most would agree that these would make for sour headlines. It seems every time we turn on the news more and more of the world is on fire and we see the smoke surrounding our backyard if only through the lens of the news.
But what about the success stories? There must be some sweet to balance the tart, right?
What about the businesses who were linked with the proper relationship managers at community banks that allowed for the rapid response of deploying PPP funds from the safe act? What about the non-bank financial companies that helped business stay liquid when AP's were pushed back, or new order opportunities required Cash-in-Advance to handle supply chain shocks?
At Camel, we stepped-up to supply liquidity to companies undergoing uncertain times with their collections but also take advantage of opportunities to shift their core service. From financing PO opportunities to re-working some of the ineligible calculations, the flexibility of the financing we were able to offer helped ensure our clients could get through this unprecedented situation with as little collateral damage as possible.
It is the sweet balance of working with a smaller financial institution like Camel. We take the time to get to know your business on a granular level so even when uncertainty rises (like with the pandemic), we can offer sound business advice along with borrowing capability to ensure our clients have what they need to survive and eventually thrive.
As PPP funds start to deplete and companies find themselves dealing with slower collections, please share the Camel name and we will be happy to how we can make a souring drink much sweeter!
Stay safe, healthy, and wash those hands!
---
Celebrating Mojitos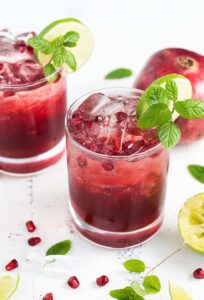 From Helena's Garden: This year I have several pomegranates growing on my tree and as usual mint grows in the yard like a weed. I also have a few lime trees that come in handy.
Pomegranate Mojito's
Handful fresh mint leaves
A dash of simple syrup (easy to make from scratch)
Juice from a fresh lime
(I muddle these first 3 ingredients at the bottom of the glass)
1-3 ounces (depending how strong you like it) of rum or I prefer vodka
2 ounces of pomegranate juice
Top off with sparkling water, for extra fun use flavored Pellergrino, like Pomegranate
Add a spring of Mint, a lime wedge and pomegranate seeds to the top.
And Enjoy!