Are You in a Pickle with Your Bank?
Growth is great and growth is tough. When a company has a product or service that is hot, the entrepreneurial spirit drives them to get the most out of the opportunity.
But pushing too hard too fast can have its consequences; and, when they're not prepared, those consequences can ruin projections. Constraints on cash-flow creates pressure from vendors which can inevitably slow projects down and force employees to focus on fires instead of the product. Also, as companies lean on their bank to help keep the money flowing, they may run into with the covenant requirements of a bank.
Banks are fantastic for their rate and functionality; however, their lending is limited to the original agreement and asking for an increase is time and resource intensive. And, depending on the structure of a company's business and loan, they may not be able to help. This causes further delays and can even mean missing out on those great opportunities for significant growth.
Don't let those growth opportunities spoil – "pickle" them instead!
With an Asset-Based line of credit at 
Camel Financial
, the company can now take advantage of rapid growth without having to worry about being restricted on their borrowing capacity. As sales grow, so too does the company's access to liquidity.
It's like making pickles with a credit-based sale. A company builds up these fresh sales in the form of accounts receivable but need to wait for them to pay in order to actually use the cash. 
Camel Financial
 can take on these invoices and use our special brine to unleash the cash you need to keep you growing!
If you know a company in a pickle with their bank, send them over to Camel and we'll teach them how to pickle and still stay fresh!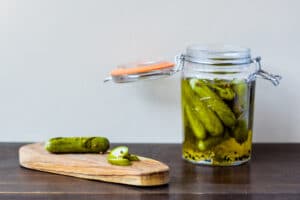 Homemade Canned Pickles
Ingredients
1-1/3 cups distilled white vinegar
3 tablespoons kosher salt
2 tablespoons sugar
2 cups cold water
1-3/4 to 2 pounds Kirby cucumbers (about 8), cut into halves or spears
2 tablespoons coriander seeds
6 large garlic cloves, peeled and halved
1 teaspoon mustard seeds
1/4 teaspoon red pepper flakes
16 dill sprigs
Instructions
Combine the vinegar, salt and sugar in a small non-reactive saucepan (such as stainless steel, glass, ceramic or teflon) over high heat. Whisk until the salt and sugar are dissolved. Transfer the liquid into a bowl and whisk in the cold water. Refrigerate brine until ready to use.
Stuff the cucumbers into two clean 1-quart jars. Add the coriander seeds, garlic cloves, mustard seeds, red pepper flakes, dill sprigs, and chilled brine into jars, dividing evenly. If necessary, add a bit of cold water to the jars until the brine covers the cucumbers. Cover and refrigerate about 24 hours, then serve. The pickles will keep in the refrigerator for up to one month.
Enjoy!