Who doesn't love garlic? Used around the world in virtually every staple dish, garlic's versatility allows it to be the star of the show, the best supporting actor, or even an extra; that without it, the production would fall flat.
Packed with tremendous flavor and natural aromatics, that pungent, spicy cousin to the onion is packed with antioxidants that are essential for a healthy diet. However, like most nutrient-dense vegetables, cooking garlic causes the vitamins and minerals to breakdown from their beneficial state and lose their most potent nutritional properties.
But have you ever just taken a bite out of a raw clove of garlic?
We wouldn't recommend just munching on the clove as there are options, but most need some type of fat to slightly balance out that sharp flavor. One thing is for sure, if raw garlic is used, it will be the only thing you taste.
Think about some of the popular raw garlic recipes – pesto, chimichurri, bruschetta. While delicious, the raw garlic dominates the flavor profile. Now shift that same thought to recipes including cooked garlic. Its impossible to count because every nation with any clout in the culinary scene utilizes garlic as a base for all of their dish. And while cooked garlic is uniform in its taste, each dish becomes uniquely its own.
"Garlic is divine. Few food items can taste so many distinct ways, handled correctly. " -Anthony Bourdain, Kitchen Confidential
Also, just because something loses some of its nutrition during the cooking process does not make it any less desirable for achieving a healthy diet. In fact, adding a little bit of flavor so that you can include more healthy additions is well worth sacrifice!
ABL and traditional banking operate the same way. The raw version of lending is on its face much healthier for a company but restrictive on where it can be applied. Sure, there are a few great recipes with raw garlic, but the true magic happens when you stick minced garlic in a heated pan of olive oil or by roasting the whole bulb in the oven. The process takes longer than simply throwing freshly chopped garlic over a salad, but the resulting combination allows the dish to have a life of its own.
ABL blends a company's assets together to create something unique to their needs. The flexibility mixes with any B2B industry and allows the company to own its success without dealing with bank covenants and compliance pressures.
While ABL may not be considered the healthiest option due to its costs, its tailored approach to individual companies makes ABL much more approachable than your raw bank product.
Talk with the "Chefs" here at Camel Financial so that we can cook-up the right recipe for your client or company.
Roasted Garlic Soup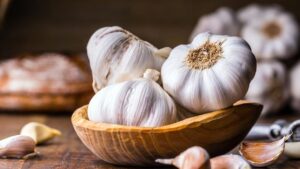 Ingredients
4 bulbs garlic
¼ cup olive oil
6 tablespoons unsalted butter
4 leeks, chopped
1 onion, chopped
6 tablespoons all-purpose flour
4 cups chicken broth
⅓ cup dry sherry or white wine vinegar
1 cup heavy whipping cream
1 tablespoon lemon juice, or to taste
salt to taste
¼ teaspoon freshly ground white pepper
2 tablespoons chopped fresh chives
Instructions
Cut off top 1/4 inch of each garlic head. Place in a small, shallow baking dish. Drizzle olive oil over. Bake at 350 degrees F (175 degrees C) until golden, about 1 hour. Or if you have a air fryer wrap individual cloves in tin foil and cook at 400 for 15 minutes. Let cool. Press individual garlic cloves between thumb and finger to release.
Melt butter or margarine in heavy large saucepan over medium heat. Add garlic, leeks, and onion; saute until onion is translucent, about 8 minutes. Add flour and cook 10 minutes, stirring occasionally. Add broth and sherry. Simmer 20 minutes, stirring occasionally. Cool slightly.
Puree soup in batches in a blender or food processor.
Return soup to saucepan, and add cream. Simmer until thickened, about 10 minutes. Add lemon juice to taste. Season with salt and white pepper. Ladle into bowls. Garnish with chives.